At the end of each school year the La Joya ISD Campus Crime stoppers awards certain students to college scholarships. Each student must meet certain criteria in order to get a scholarship. For more information contact our office at 956-323-2040.
The La Joya ISD Campus Crime Stoppers will be awarding six graduating seniors from La Joya ISD college scholarships. Graduating seniors interested in applying for a scholarship can apply at their high school counseling department and fill out an application or pick up an application at our La Joya ISD Police Department.
Deadline to submit an application is Friday April 26, 2019. Those interested must meet the following criteria:
To qualify or be considered for a La Joya ISD Campus Crime Stoppers scholarship, applicants must provide the following:
List three (3) non-relative individuals who could make a letter of recommendation on your behalf. Include their name, address, phone number, and profession.
A copy of your high school transcript and ACT / SAT scores.
A description of your community service involvement or your school extracurricular involvement.
What college, university or technical school do you plan to attend?
Have you ever been convicted of a criminal offense? If so, Explain.
On a separate page, write an essay describing how the La Joya ISD Campus Crime Stopper Program has helped keep your school safe?
For more information contact our office at 956-323-2040
HERE ARE THE COLLEGE SCHOLARSHIP RECIPIENTS: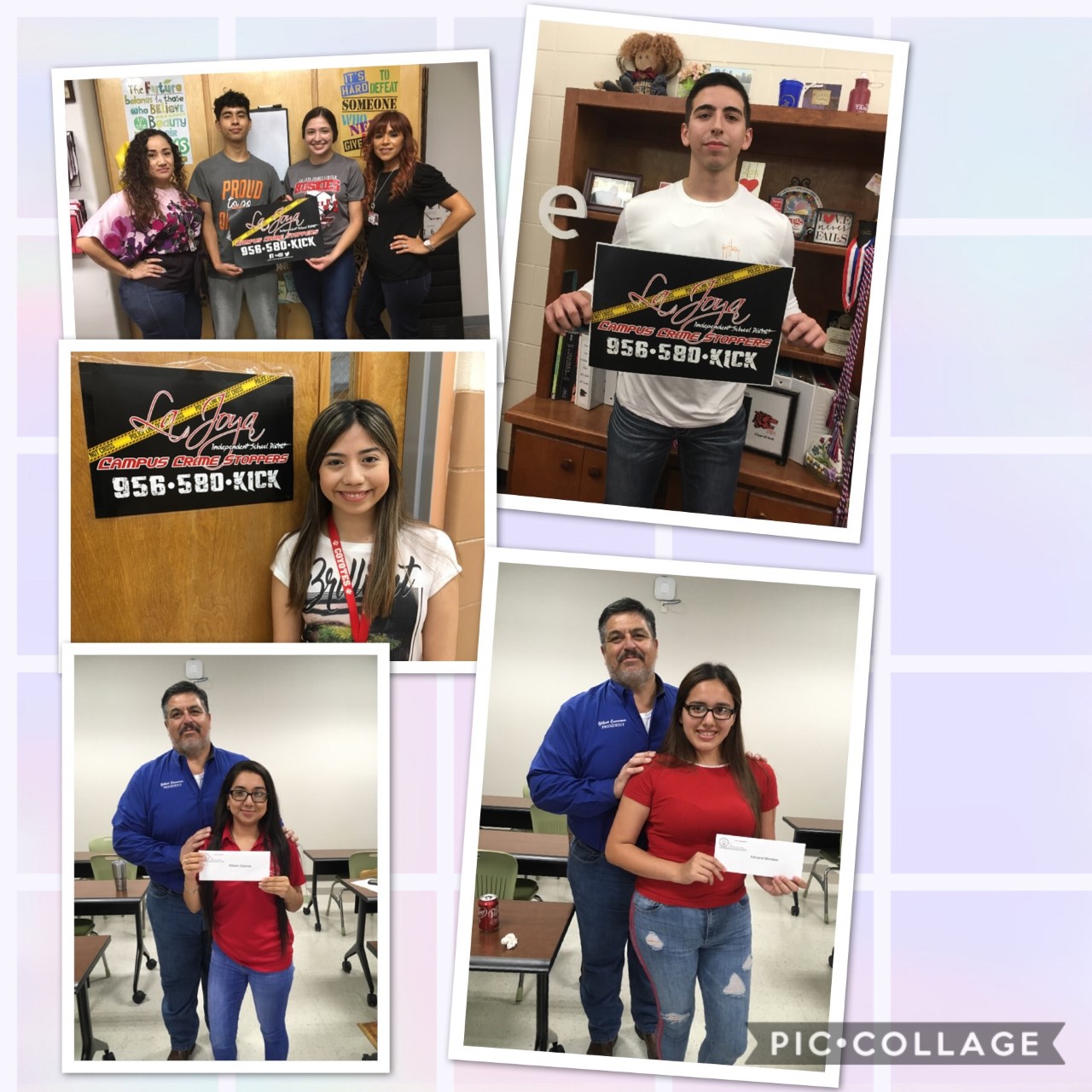 Christian Montoya (Juarez Lincoln High School $250 Scholarship)
Leah Gallegos (Juarez Lincoln High School $250 Scholarship)
Jorge Luis Mendiola (Palmview High School $250 Scholarship)
Stephanie Montoya (La Joya High School $250 Scholarship)
Allison Osornio (La Joya Early College High School & Student Board Member $1,000 Scholarship)
Adriana Morales (Thelma Salinas STEM Early College High School & Student Board Member $1,000 Scholarship)